ไดอารี่จ๋า ไม่ได้มาอัพเดทเลย ยุ่งมาก
เวลาส่วนมากที่หมดไปคือ ทำงาน ดูลิซซี่ อ่านหนังสือ
อยากให้เวลามันเพิ่มเป็นวันละ 48ชั่วโมงจริงๆเลย
ช่วงนี้ชีวิตเราไม่มีอะไรกันมากอากาศดีก่อนที่จะหนาวอีกรอบ ใบไม้ร่วงหมดต้นแล้ว
บรรยากาศเหงาของฤดูใบไม้ร่วงแม่ไม่ชอบเลย
จาก Farmer's Almanacที่ทำนายอากา๋ศของทุกปี
ที่ส่วนตัวแม่แล้วแม่ว่าเค้าทายค่อนข้างแม่น
เค้าว่ากันว่าปีนี้จะเป็นปีที่หนาวมาก
หลังจากที่เราหนาวเกือบติดลบไปเมื่อต้นเดือนที่แล้วแล้ว ก็กลับมาอุ่นอีกรอบ เป็นที่วิงเวียนของแม่ยิ่งนัก
อาทิตย์ีืที่ผ่านมาอากาศตกเป็นองศาเซลเซียสแล้วก็ยี่สิบกว่าๆ แม่ว่าอากาศดีมาก อยู่ในบ้านก็เสียดาย
แม่เลยออกไปขับรถเล่นกับหนู ตอนแรกว่าจะไปแค่แมคโดนอล
ปรากด ขับไปถึงในเมืองเลยโน่นโทรหาป้าแพท
เลยชวนกันไปสนามเด็กเล่นเลยวันนี้เราไปสนามเด็กเล่นใกล้ๆบ้านป้าแพทกัน
พี่ JT ไปโรงเรียนเลยเหลือแต่พี่ JD มาดูรูปหนูวิ่งเล่นกันดีกว่า
Are you ready guys?
Soon as we geot there Lizzy played at the slide. She loved it.
Personally I think she is a little small for that. Still have to have some asistance when she come down the slide.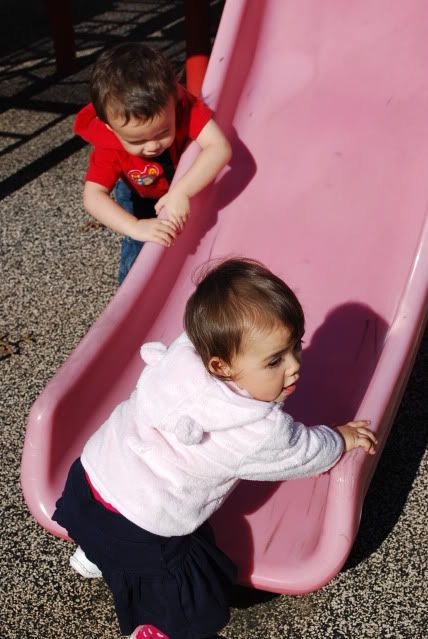 JD was trying to show her how to get on the slide.
They just like to climb up the wrong way.
The weather was so nice. When we were in the sun, it was perfect.
For a while I had to take my sweat shirt off.
Let me show you JD. They is how you get on it.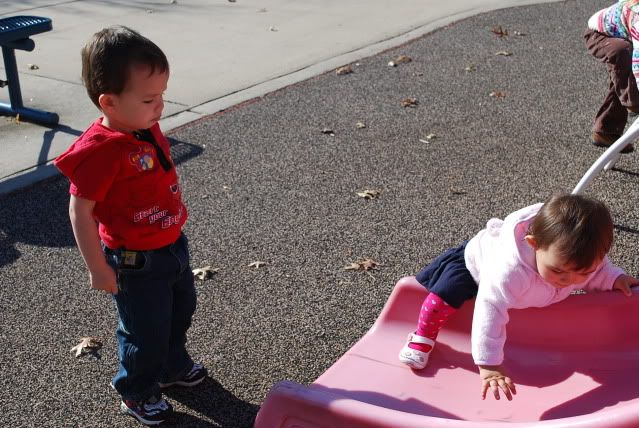 The real Lizzy has to have one drop of drool on the left cheek. Eiei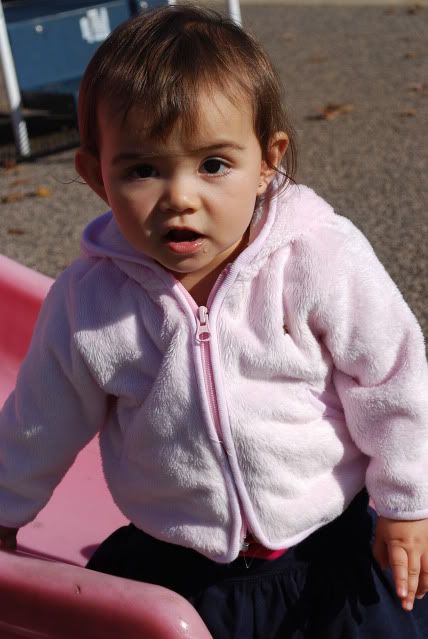 After the slide, Lizzy started to walk toward the swing.
I know that she is not so crazy over the swing, but she wanted to try.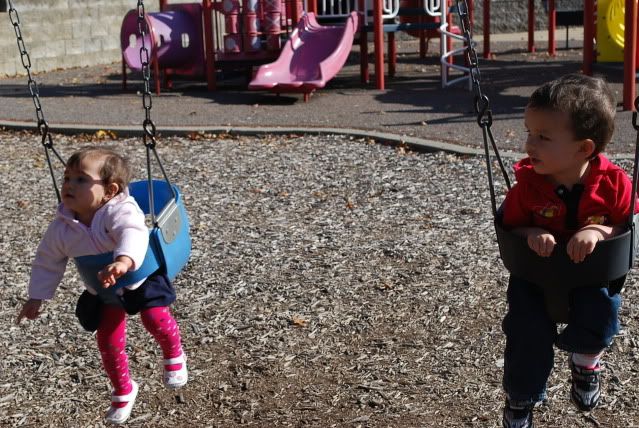 As i know she didn't like it that much. On the other hand JD loves it.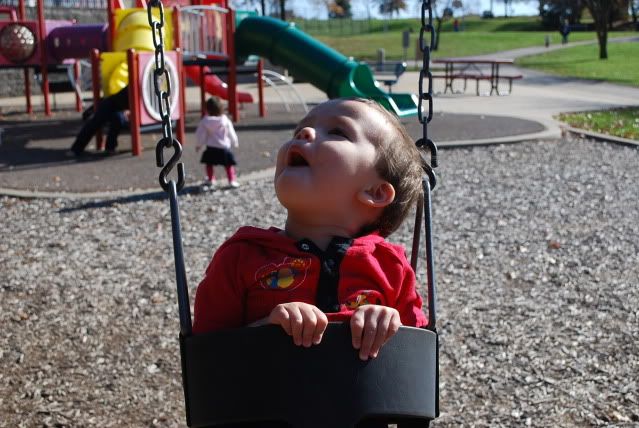 Lizzy then changed to the slide again.
This time Mommy came down the slide with Lizzy. It was really fun.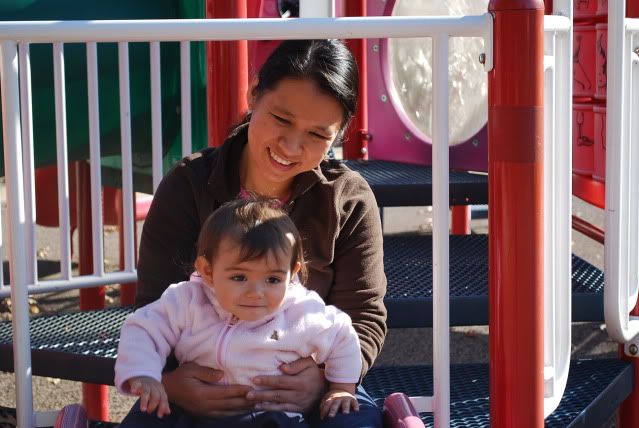 I really like this park. They have really good area for small children.
The ground is patched by some kind of soft matterial so I don't have to worry that Lizzy will bump her head on the ground.
I know Lizzy is too small to play in group. She will play next to JD but not with JD.
She was so busy running all over the place.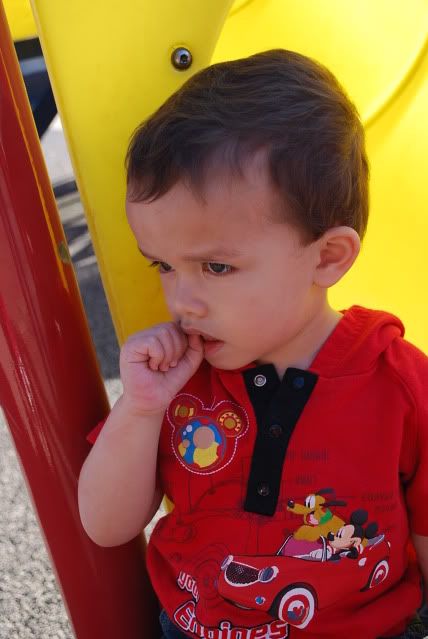 Occasionally we will have one or two children come to play in the area. However Lizzy will run all of them off.
She just started to following them.
There is also a big plastic tunnel that connect one play set to another one on the other side. Lizzy is obcess with that. I think she liked it when we chased her to the other side.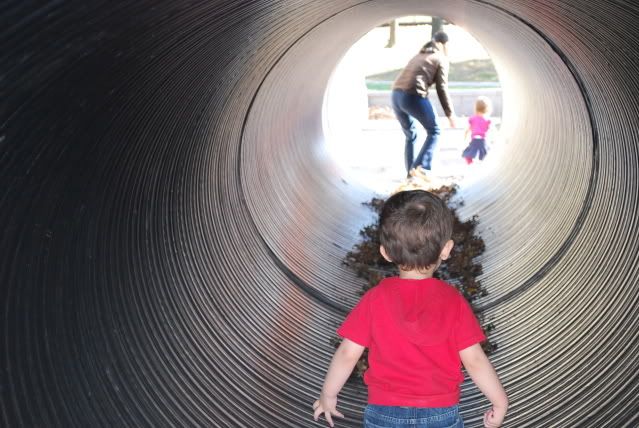 After running for a while. We sat down and ate some snack.
Auntie pat have brough a snack basket with her. Lizzy really enjoyed the first Sunny D ever.
I enjoyed the scenery a lot. The leaves are orange and brown.
It was so peaceful.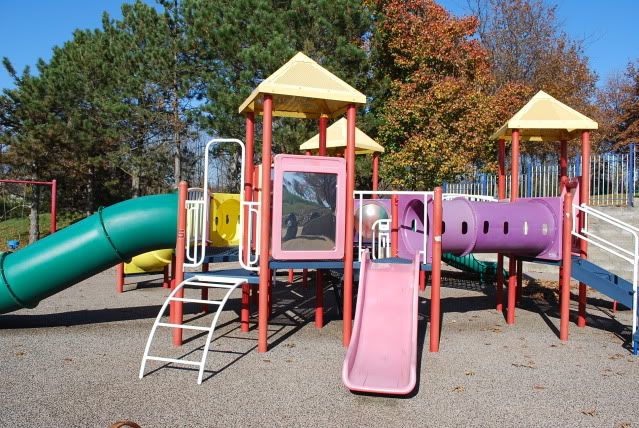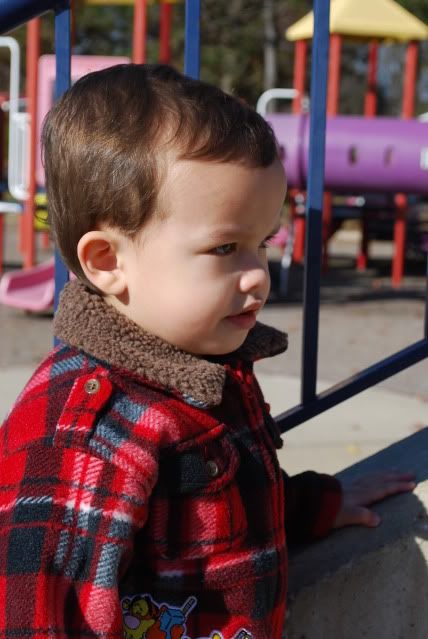 After the swing and slide, Lizzy started to play with the step.
She liked to go up and down. I was worry because it is plain concrete.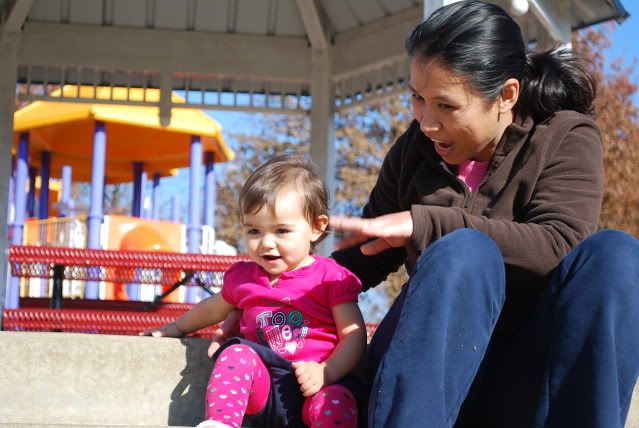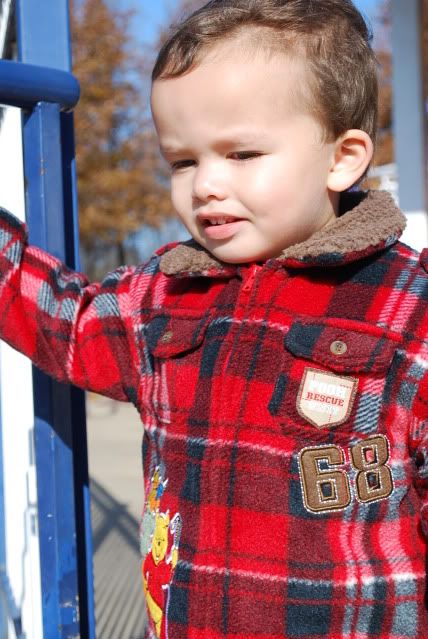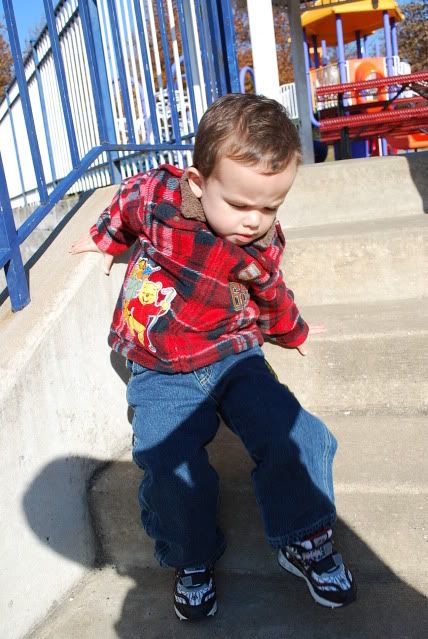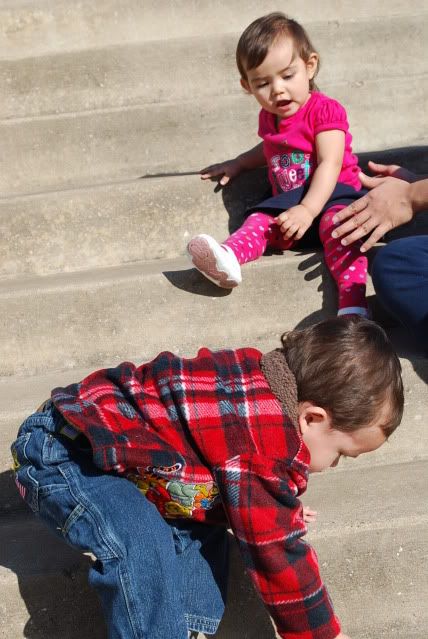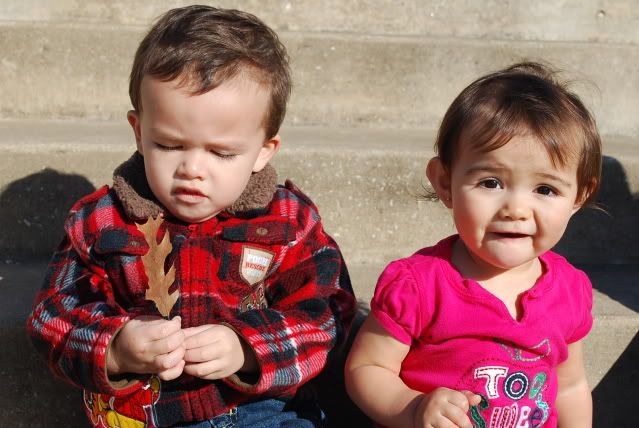 It is so hard to take children picture. They are all over the place.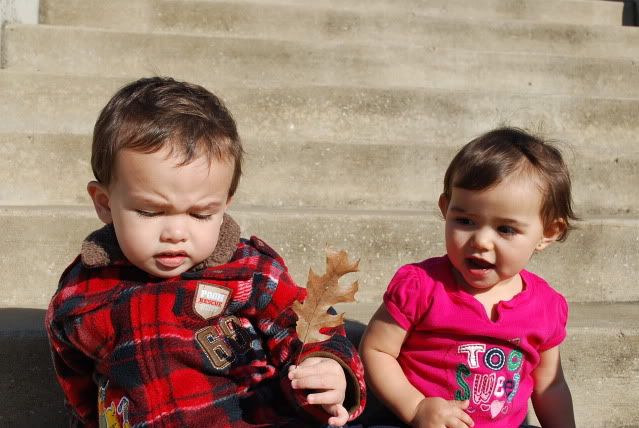 Then Lizzy started to run off. Ohhh I have to say it was like you have a bunch of little crab that run all over. I wish I have a thousand hands.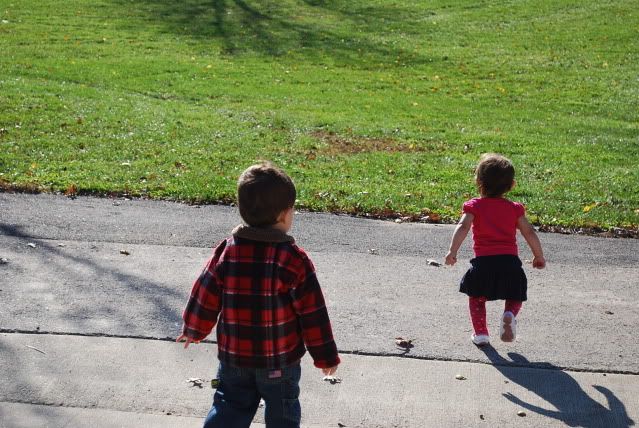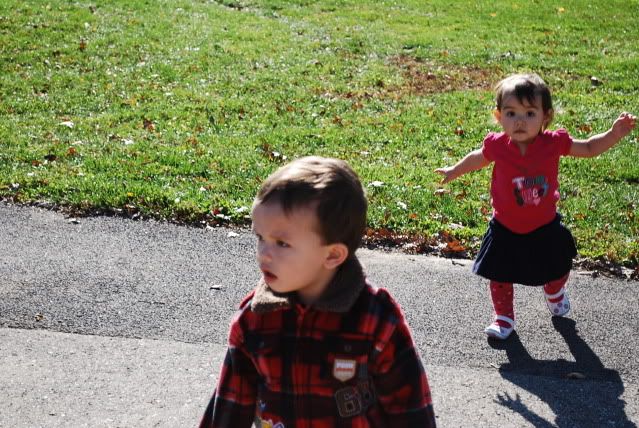 Off again toward the pond. Arggggggg.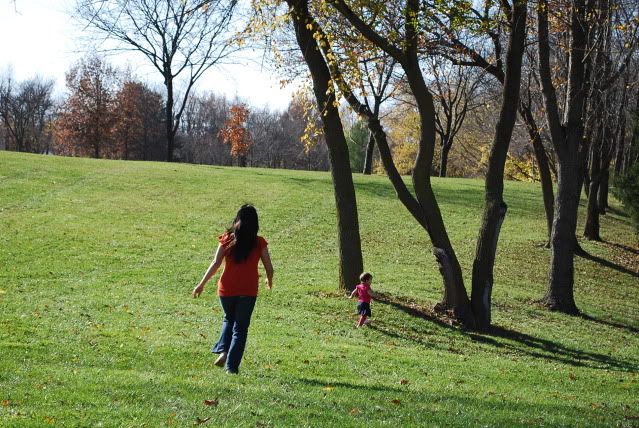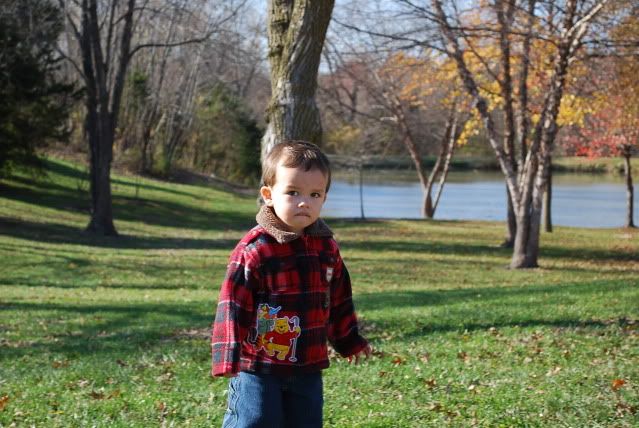 Auntie Pat got her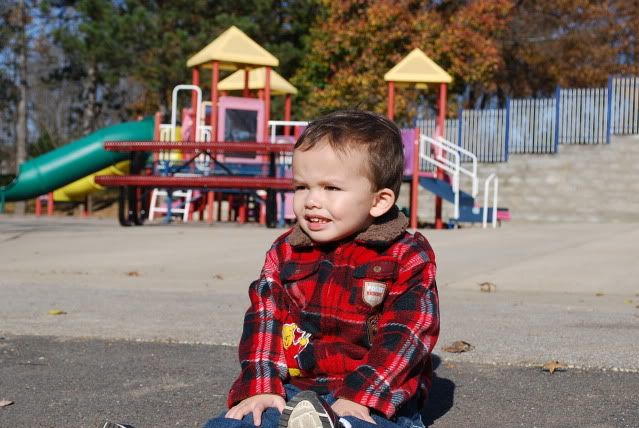 We then sat down and snack some more but Lizzy got cranky. She took only morning nap. So we decided to go back to Aunt pat's House.
Aunt Pat made som tum and fried pork and sticky rice for us. Lizzy loved them.
We then left anut Pat and went home.
We loved it. It was a fun day.
Love you
Mommy.
P.S. tomorrow is another warm day. Guess where we played!!!!!!!!